A handful of Swiss families left home and hearth to grow grapes, not on the shores of Lac Leman, Switzerland, but on the shores of Lac Liman in Bessarabia, at the invitation of the Russian Tsar in the early years of the nineteenth century. The colony of Chabag, or Shabo as it is called today is part of the Ukraine. The colony ceased to exist when it was appropriated by the Russian army during World War II. Switzerland repatriated many former colonists.
Louis Samuel Vincent Tardent, his wife Uranie Grandjean, in the company of equally trepidatious families from canton Vaud, established a Swiss grape growing colony - a truly epic adventure, the final chapter of which only played out post world war 2. The tale is beautifully told by Olivier Grivat's 1993 publication "Les Vignerons Suisses du Tsar".
Tsar Alexander I of Russia, whose forces defeated Napoleon's grande armee in 1812, died in 1825. As a young prince, he had for his tutor and mentor the distinguished Swiss statesman Frederic-Cesar de la Harpe, who is regarded as one of the founders of the canton of Vaud.
After Napoleon's final defeat at Waterloo in 1815, various national boundaries were altered, and it was decided at the Congress of Vienna, that Bessarabia would be ceded to Russia. This area contained many neglected vineyards which had been abandoned by the Turks after their conquest by the Russians.
Tsar Alexander who had remained a close friend of de la Harpe, contacted him to see whether he could persuade Swiss settlers to come to Bessarabia to restore its agriculture, particularly the vineyards and orchards.
As a result the first meeting of interested Canton Vaud citizens took place on 13th August 1820, and it was decided that one of them, Louis-Vincent Tardent would go to Bessarabia to assess prospects of establishing a successful Swiss settlement in the district of Chabag, which name originates from the ancient Turksih term Achabag meaning "the lower gardens'.
Tardent was given the sum of 800 francs to cover the cost of his journey, and after deciding that prospects for the settlement were sound, he urged his Swiss compatriots to come to Bessarabia as soon as possible; however after several delays, it was not until April 1822 that he was able to return to Switzerland to help organise the expedition, which finally set off from the town of Vevey on 19th July 1822. Louis-Vincent Tardent (35) was the acknowledged leader and "chef de convoi". He was accompanied by his wife Uranie (33) and their children (Marc), Louis (12), Charles (10), Samuel (71/2), Louise (6), Emma (4) and Antoinette (18 months) .
The other family in the group comprised Jacob Chevalley, his wife Suzanne and their six young children.
The Russian government guaranteed the Swiss freedom of religion, exemption from service in the Tsar's army and the right to govern themselves in accordance with their democratic principles. Each family was granted an area of farmland slightly in excess of 60 hectares and was exempted from various taxes and government charges.
| | | |
| --- | --- | --- |
| A very interesting account of Chabag is contained in the following publication, La Colonie Suisse de Chabag (Bessarabie), by Andre Anselme, available in the library system of Canton Vaud. . The foreword to this publication, written in 1925, is particularly moving, given today's historical perspective. Another interesting publication is 'Chabag- Schweizen Colonie am Schwarzen Meer' - Heidi Gander - Wolf. | | |
Below: Rare family photo from colony. Charles, son of Charles Rodolphe Tardent, grandson of Louis Vincent, with his children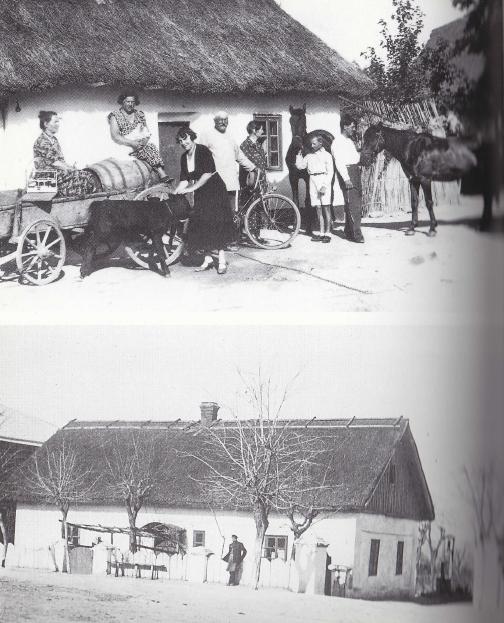 Above: Family of Oscar Dorgny
Below: Typical Swiss colony dwelling
Uranie's Diary
Uranie's account of the voyage to Bessarabia, copied here in translation, is one of those. The original, in French, appears to be lost. This diary is a charming and perceptive account, providing some wonderful insights into the cultural mores of the times. Uranie's Diary.
In all, with a few other settlers, the expedition comprised only about 10 adults plus the children, and they were faced with the daunting task of traveling some 2,500 kilometres across Europe by horse and wagonette through Switzerland, Austria, Czech Republic, Slovakia, Poland and the Ukraine, a journey of 103 days before they reached their future home on the shores of the Black Sea.
In the following years, other Swiss families made their way to Chabag, the last colonists leaving Switzerland in 1846.
There are many interesting accounts and researches of this historic Swiss colony by different historians, including descendants of the families involved, keeping the memory of the colony alive. A web search will uncover some wonderful resources and accounts of this significant venture in 19th century Swiss history.
An historical account of the history of the colony by the Societe Chabag Lausanne can be found here in French, German and English. It provides an overview of events from the foundation of the colony to its closure, with historical documents and input from many of the descendants of the intrepid Vaudois family colonists. Links and contacts provide an excellent insight into this unique settlement.